Modular Billet Intake Manifolds
High-Performance Manifolds For Unlimited Racing Applications!
Made from 6061-T6 billet aluminum, each manifold is custom designed and CNC machined to +/- .003″ accuracy. Billet manifolds provide precise and balanced geometry, resulting in equal air/fuel distribution to each engine cylinder for optimal volumetric efficiency. Utilizing 5-axis aerospace machining processes allows for creating contours and controlled surface finishes that are impossible to duplicate by hand fabrication.
Our manifold development starts with the fundamental principles of fluid mechanics in conjunction with actual testing via CFD analysis, flow benches, the engine dyno, and track data for measurement in error and improvements. Analyzing all of these variables carefully is where product refinement, knowledge, and experience increases with each manifold we produce. We consider every customer's manifold an R&D project. We base the foundation of products and applications around these principles as a result of feedback from engine builders, tuners, dyno technicians, and racing teams. We will not push our theories on anyone. We simply provide what each customer wants and demands, with factual suggestions on potential improvements based on the customer's test data related to their engine performance configuration.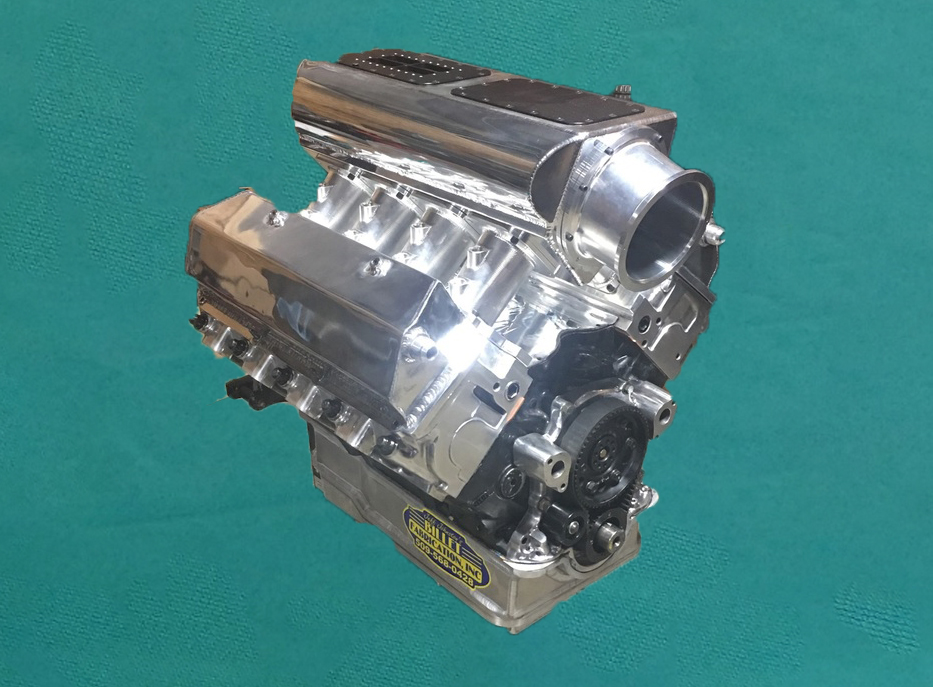 Why Choose Our Manifolds Over The Competition?
Our manifolds are CNC machined to +/- .003″ accuracy. This is impossible to achieve by hand fabrication. We have inspected and reverse-engineered several of our customers' sheet metal manifolds where the port locations are off by as much as .100″ and runner trajectories deviate 2 degrees off of the customers' initial specifications. This is a direct result of welding distortion. Both dimensions are very critical to getting optimal volumetric efficiency from a motor.


All of the components of our modular billet manifolds are 100% modular and replaceable. The interchangeable runner feature (which is unique to this application) and the plenum spacer allow for induction system modifications. Our manifolds are designed and manufactured with the entrance radii on the runners or integrated into the plenum if requested.


We are the only modular billet manifold manufacturer that can change runner lengths to the best of our knowledge. Contrary to what our competitors will try to make you believe, there is no "hand fudging" about this application. We have carefully developed a process through meticulous calculations and geometric relationships to create this feature. We know other manufacturers have been asked to provide this similar application from their existing customers. Some may succeed in producing this feature. Those who don't will try their best to convince you that this application cannot and does not work.


We have worked with and/or consulted with some of the top engine builders and cylinder head/manifold developers in pro stock, including Warren and Kurt Johnson, Frank Iaconio, and Roy Johnson. Each has concluded that modular manifolds are the future of high-end induction development.


Our manifolds can be purchased individually or in volume quantities. Volume orders, which include a discount, are ideal for engine builders who sell multiple engine packages and lease identical motors to several race teams.


All of the data you provide to us, along with the 3D CAD/CAM files we create to produce your intake, will always remain proprietary. Having all of this info saved on our secure computer network will also make future modifications much simpler. We do not have to start over from "scratch" when producing similar manifolds for your future engine combinations.
Each modular manifold ships fully assembled and includes:
Plates (Flange, Galley, Top)
Single Plane Billet Manifolds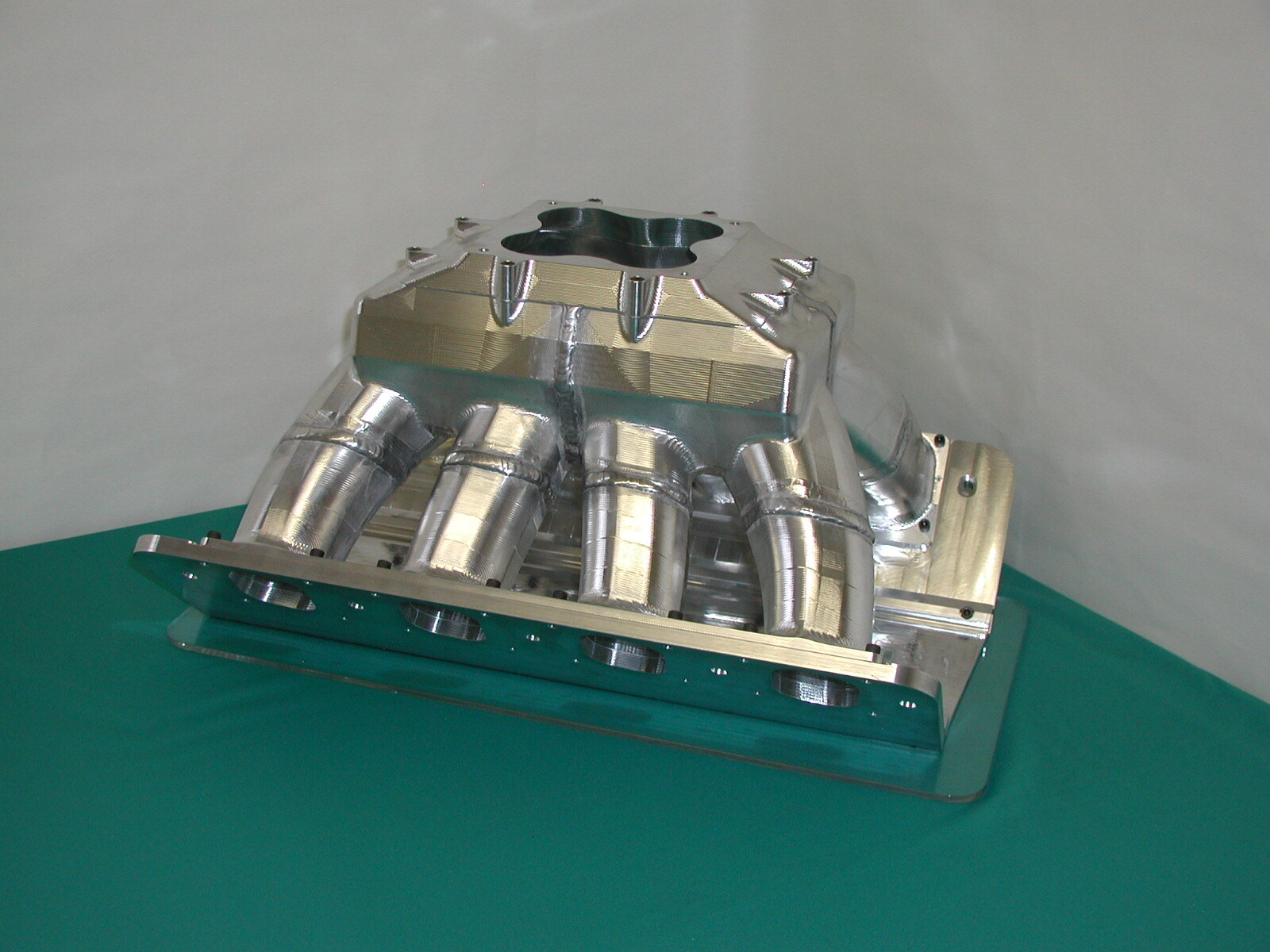 Our single plane billet manifolds are made from T6 6061 billet aluminum and custom-designed specifically for your engine application. Billet manifolds are ideal for single 4-barrel carburetor applications and offer several advantages compared to high-production cast, sheet metal, and single top tunnel ram manifolds. While cast single plane manifolds are effective, you are limited to the amount of customization because of the fixed plenum and the fixed sizes and contour of the cast runners. Sheet metal single plane manifolds have high welding distortion and have difficulty maintaining the runners' sizes and curvatures. Single top tunnel ram manifolds are effective but often struggle with air/fuel distribution on the perimeter cylinders 1, 2, 7, 8. Utilizing CAD & CFD software, we can custom design the plenum, runner sizes, and runner curvatures to optimize air/fuel distribution for greater volumetric efficiency.
Constructed of T6 6061 billet aluminum
Designed for minimal welding distortion
Custom designed runners for increased carburetor signal and optimal air/fuel distribution
Fully CNC ported
Lighter than cast intake manifolds
Quadra-Seals included
Plenum contouring available for optimal air flow
Machined injector boss' available
Available for block sizes up to 5.3 bore spacing
Williams Engineering LLC, located in Cincinnati, OH, was founded in 2005.